Royal Mail Stamp Issue 2007 Commemorating the 50th Anniversary of Patrick Moore's Sky at Night"
This 2007 Royal Mail Stamp issue consisted of 6 stamps, including 4 Hubble Space Telescope Images, one NASA image and one amateur image (my image of IC405).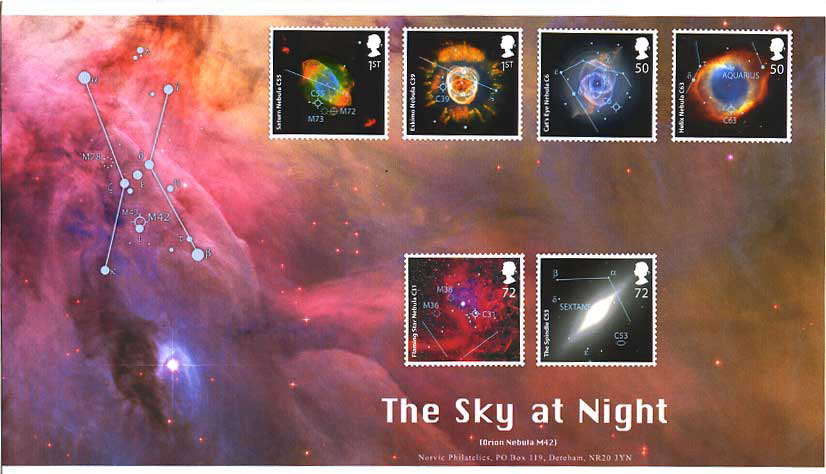 Technical details:
The 32x30mm stamps are designed by Dick Davies. Self-adhesive stamps in sheets of 30/60 of each value* are printed in gravure by Walsall Security Printers. (*They cannot truly be described as se-tenant because they are self-adhesive.) The backing paper is printed with information about the subjects of the stamps.
All images except Norvic FDCs are Copyright Royal Mail 2006/07.
Photography details as provided by Royal Mail:
- 1st Class: B Balick(U Washington) et al,WFPC2, HST, NASA.
- 1st: NASA, Andrew Fruchter and the ERO Team, Sylvia Baggett (STScl), Richard Hook (ST-ECF), Zoltan Levay (STScl).
- 50p: NASA, ESA, HEIC, and the Hubble Heritage Team (STScl/AURA), R.Corradi (Isaac Newton Group of Telescopes, Spain) and Z. Tsvetanov (NASA).
- 50p: NASA, NOAO, ESA, the Hubble Helix Nebula Team, M Meixner (STScl), and T.A. Rector (NRAO).
- 72p: Robert Gendler.
- 72p: John Kormendy, University of Texas at Austin, USA.
From "Royal Mail Group, 2/13/07
It's rare that Royal Mail allows an individual to choose what they want on a set of stamps - but then not everyone is Sir Patrick Moore.
He first presented The Sky at Night in 1957 and now, half a century on, the man and his equally famous monocle are still providing millions of viewers with a monthly guide to the stars. On sale today (13 February), The Sky at Night stamps celebrate the show's 50th year and its status as the world's longest running programme still with an original presenter.
The stamp designs chosen by Sir Patrick display five nebula - interstellar clouds of dust and gas - and The Spindle, a galaxy 32 million light years away. Sir Patrick has also written the Presentation Pack which explains the history of The Sky at Night and how he devised the Caldwell Catalogue numbering system.
Sir Patrick Moore said: "I feel deeply honoured that there is to be a set of Royal Mail stamps in honour of The Sky at Night. I would like to think that we have played a part in introducing astronomy to people who would otherwise have paid no real attention to the heavens! Many years hence, philatelists will still be admiring these stamps - paying tribute, not to me, but to The Sky at Night."
Julietta Edgar, Head of Special Stamps, Royal Mail said: "It was a pleasure to work with Sir Patrick on this stamp issue. Anyone who reads the Presentation Pack will see that his passion for astronomy is as strong as ever.
"We know that astronomy is an extremely popular subject and I'm sure these spectacular images will prove a hit when they appear on millions of letters around the country."
Archive news releases
Royal Mail
Sky at night to star in Royal Mail's 2007 stamp programme
28/12/2006
For 50 years The Sky at Night has been a guiding light for millions of viewers and now it's one of the stars of Royal Mail's 2007 Special Stamp programme unveiled today (Thursday 28th December).
The longest running show on television has been an essential monthly guide for millions of star gazers, but the show would be nothing without its very own 'heavenly object' the inimitable Sir Patrick Moore, who has been presenting the show since its very first episode in April 1957.
Royal Mail worked with Sir Patrick to choose six of his own favourite celestial objects for the anniversary stamps, which are issued on 13 February.
The Sky at Night is one of 13 sets of commemorative stamps to be issued throughout 2007. All stamp issues are available in different formats, and thousands of customers have already renewed their subscriptions to ensure they continue to receive these miniature works of art on First Day Covers, as Mint Stamps or in special Presentation Packs.